Been too busy recently to drag my sorry lil butt to update. Just a short update just to waste some space and also to advertise Mei's 20th birthday that is.

Mei is one of the youngest graduate ever for a bachelor degree holder in my course. At 20. Deng. As per the usual routine, a birthday dinner coupled together with a birthday song and a birthday cake and THE BIRTHDAY GIRL was the main attraction at that night.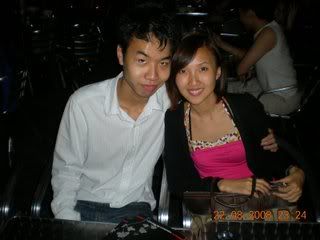 The Birthday Girl and the BF
Venue was over at Gasoline, Lookout Point, Kuala Lumpur. First sight of the place? Impressive. After the first sight? Horrendous. Besides having the poor Pang Han suffering from their tendency to breed prawns whenever they're ordered, the poor guy had to starve for more than 1 1/2 hours before finally changing his order to something else. Throw in a pair of speakers with one side being the Treble and the other being the Bass, you'd probably get frustrated, especially if you're sitting near the speaker with the Treble.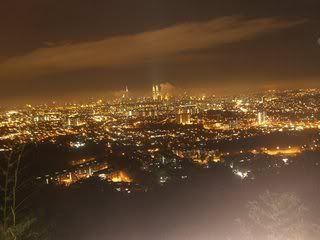 And, thanks to Amy for being the entertainer for the night, where she perfomed her trademark show of "playing with the THING" at the request of PaPa BeaR. We thought it was a free performance till PaPa BeaR's orange juice was disappearing as though the jar that he drank from had sprung a leak. Till. We discovered Amy being the "leak". LoL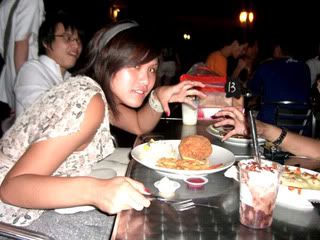 Amy. Trying to play with the THING.